Timber & PVC Shutters
At Peachester Blinds & Shutters all our shutters are hand crafted and custom made to suit your individual requirements.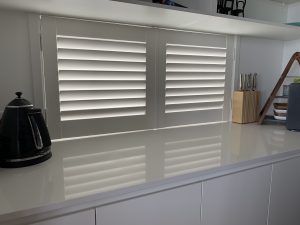 Timber is the premier choice for shutters. It has natural insulating properties to keep out heat in summer and to keep your home warmer in winter, and due to the quality and durability of the timber it will retain its beautiful looks for years.
PVC is ideal for use in wet areas and coastal environments. Our PVC shutters are reinforced with aluminium in both the blades and stiles to ensure maximum strength.
All our shutters can be mounted in a variety of ways to suit your various requirements i.e. hinged, sliding bi-fold and fixed. And Peachester only uses the finest quality stainless steel hinges, runners and
catches etc to eliminate any rust and corrosion.
Our Timber shutters are available in a wide variety of stained timber and painted finishes. We also do colour matching with our painted finishes. Our PVC shutters come in a selection of colours.
If you are looking for timber or PVC shutters you cannot buy better than a Peachester. We guarantee it.
Product Gallery